Aruba Instant On's end-to-end cloud networking for Axis video surveillance
ARUBA and AXIS have developed a simple to set-up, simple to manage video surveillance solution that delivers unmatched flexibility and cost savings for customers.

Find out how INGRAM MICRO will support and help you identify SMB customer opportunities perfect for this solution.
PROVIDE SMBs WITH SECURE CONNECTIVITY TO SUPPORT SOCIAL DISTANCING COMPLIANCE
Safely re-open business by managing compliance measures around social distancing with an Aruba and Axis occupancy solution
Target SMB customers who require video surveillance and physical security as part of their business critical operation
PERFECT FOR CUSTOMERS WHO REQUIRE:
PHYSICAL SECURITY

Video, audio and analytics to improve security
People monitoring and social distancing policy management
Scalable, flexible and easy to use physical security solution
Access control solutions that integrate with other solutions
GDPR compliant cameras

WI-FI CAPABILITIES

SMBs that require enterprise-grade networking on a limited budget
Cloud-managed networking via the Instant On mobile app and cloud-based web portal
High performance networking with built-in security and no hidden costs
Easy to set-up guest access for contactless interactions
Support business critical needs during and beyond the new ways of working and living with these solutions
Help customers get back to business with reliable, high quality Wi-Fi from Aruba to help enhance the performance of Axis video surveillance. Explore the solution below.
Provide excellent HDTV image quality regardless of lighting conditions and the size and characteristics of the monitored areas. GDPR compliant cameras can be PoE (preferred) or wireless depending on the scenario and solutions are scalable to cater for multidoor scenarios.

DOWNLOAD GDPR WHITEPAPER

AXIS People Counter – Regulate number of customers in store for single entrance

Analyse visitor trends
Enhance marketing efforts

Increase operational efficiency and performance

AXIS Occupancy Estimator – Regulate number of customers in store for multiple entrances

Analyse occupancy data
Understand visitor trends

Improve operational planning

AXIS Camera Station – Experience easy and efficient surveillance

Optimised for Axis network video products
Quick system setup

Intuitive operation
Effective investigation
High-definition identification

Simple, reliable & secure, Aruba Instant On is one of the simplest affordable 'out-of-the-box' Wi-Fi solutions for Small Business currently on the market.

Aruba Instant On – 1930 Switch Series
This high performance, smart-managed switch family designed with small business customers in mind.

Aruba Instant On Switches At-A-Glance Download
Aruba Instant On Video Surveillance PPT Download
Visit the Aruba Instant On Switches page on Horizon to find out more Click Here

Aruba Instant On - Access Points
Deliver high-performance and secure Wi-Fi access with hassle-free set-up and management. With both indoor and outdoor models at affordable prices, there's an option that meets every need.

Visit the Aruba Instant On Access Points page on Horizon to find out more

To complete the solution, you will need to include a digital device that best conveys the action required by the public based on the information being relayed from the camera software.

This can be in the form of a digital display signage or a digital sound system programed to deliver either visual or audio instructions.

Aruba Instant On switches will guarantee easy network integration for your digital display.

Ingram Micro can help you configure the best digital device option to complete the solution.
Contact your Ingram Micro Account Manager for help with everything from sales and technical support, integration and configuration.
Contact Us
Take physical security to the next level!
With Aruba Instant On's cloud-managed network solution at the core, there are an array of complimentary products available to up-sell and help enhance the physical security experience. Speak to your Ingram Micro Account Manager to help with configuration and specific requirements.
SECURITY & BUSINESS ANALYTICS VIEWED THROUGH MOBILE APPS
RECORDING SOLUTIONS
ACCESS CONTROL
NETWORK CAMERAS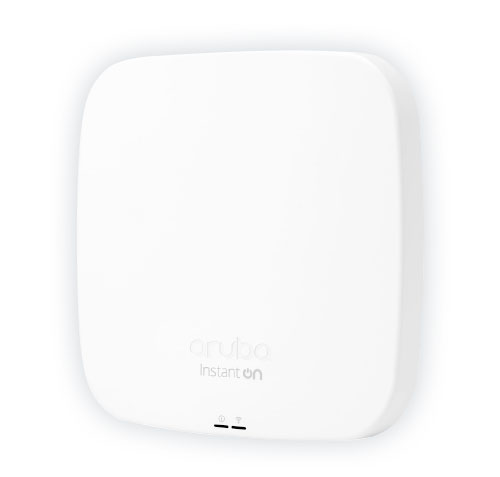 WIRELESS ACCESS POINT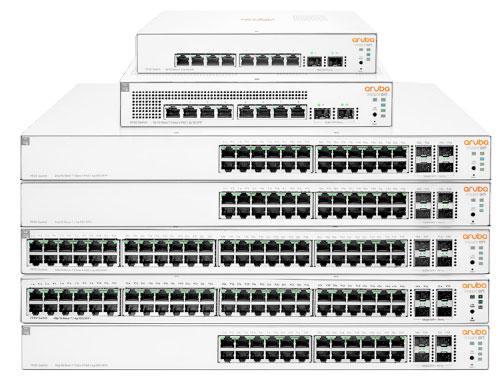 WIRED SWITCH
AUDIO FOR MESSAGES, ALERTS & MUSIC
VISITOR MANAGEMENT
CONTROL OF OTHER EQUIPMENT
AXIS CAMERA STATION VIDEO MANAGEMENT SOFTWARE
Why Aruba Instant On?
Simple, reliable & secure, Aruba Instant On is one of the simplest affordable 'out-of-the-box' Wi-Fi solutions for Small Business currently on the market.
NETWORK CONNECTIVITY

AP11, AP17 and 1930 8-ports switches are perfect for restaurants (indoor, outdoor) user density and for powering devices like surveillance cameras and PoS terminals

SECURITY

WPA2/WPA3, Integrated FW, ACL, user blocking

AFFORDABLE SOLUTION

Low price point, no hidden fee, no subscription, cloud management, smart mesh

GUEST ACCESS

Easy to set-up guest portal with third-party integration
Collect customers information for COVID19 tracing purposes
Need more help?
If you have any questions about Axis video surveillance technology or Aruba cloud-managed networking, contact your Ingram Micro Account Manager.
Contact Us
Become an Aruba Business Partner in 3 simple steps and unlock the value of partnering with Aruba and Ingram Micro.
Find Out More
Your file is downloading...