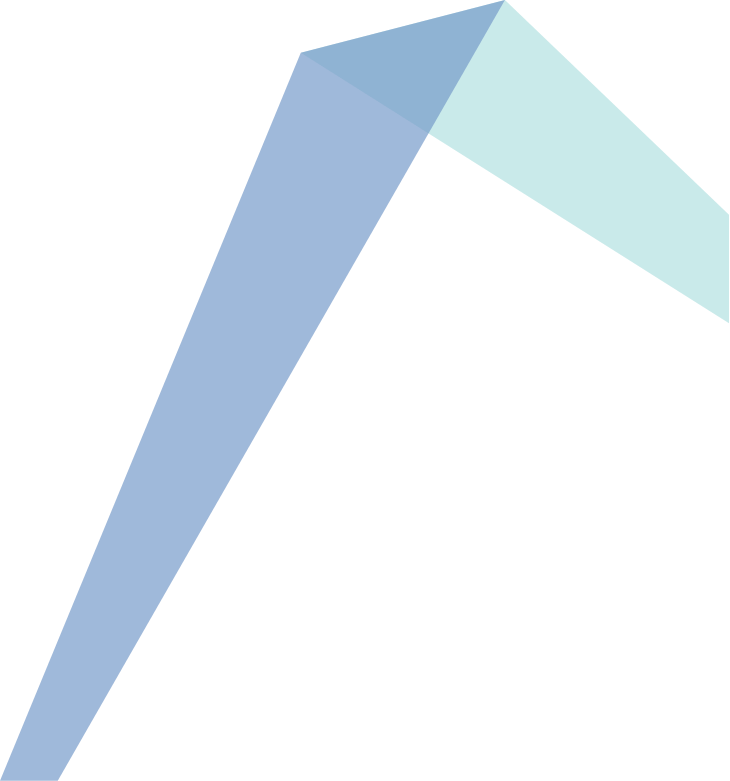 Build a consumption-based business practice
The way technology is consumed and delivered is changing. Representing an estimated $16 Billion consumption opportunity for Channel Partners, get prepared to capture your share with HPE GreenLake.
Your Ingram Micro GreenLake Experts will help you understand how everyone wins with HPE GreenLake!
Enter the GREENLAKE SCHOOL OF TRAINING!
Because everyone's a winner with HPE GreenLake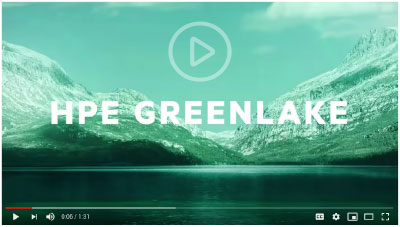 HPE GreenLake Value Prop
Watch the video
HPE GreenLake Off-Road Adventure
Join the program to help optimise your earning potential through consumption-based selling
Because knowledge is your road to greater profit
FIND OUT MORE
Capex savings due to eliminated need for overprovisioning1
Reduction in time to deploy global IT projects
1A commissioned study conducted by Forrester Consulting, The Total Economic ImpactTM of
HPE GreenLake, May 2018
Of enterprises' IT infrastructure spending on consumption-based procurement by 20202
Projected Partner growth rate of annuity revenue stream, year-over-year3
2 IDC FutureScape: Worldwide Datacenter 2018 Predictions Nov 2017
3 HPE ProLiant Microsoft Azure, HPE Synergy 480 Compute Modules, HPE SimpliVity 380, HPE ProLiant BL460c
Server Blade, HPE 3PAR StoreServ 8200, HPE 3PAR StoreServ 9450, HPE StoreOnce 5100
Welcome to the
Ingram Micro's
HPE GreenLake School of Training!
It's critical that customers achieve the right mix of technology to meet their business demands. Consumption-based IT is the answer allowing them to consume Everything-as-a-Service (Xaas).
Understand how to develop a consumption-based business and increase your profitability and customer experience through HPE GreenLake.

HPE GreenLake
for Beginners
TRAINING MODULES
THE GREENLAKE OPPORTUNITY
WHAT IS GREENLAKE AND HOW IT WORK
EVERYONE WINS WITH GREENLAKE
GREENLAKE PREDEFINED OFFERS
IDENTIFY AND TARGET GREENLAKE CUSTOMERS
GREENLAKE FOR ENTERPRISE
GREENLAKE SALES & MARKETING
GREENLAKE TRAINING CENTRE
CONTACT INGRAM MICRO GREENLAKE EXPERTS
EFFICIENT USE OF CAPITAL

LOWER IT COSTS

PAY-AS-YOU-GROW

SIMPLER IT

INCREASED PRODUCTIVITY
Everyone Wins with HPE
GreenLake
Proactive interactions with customers help improve customer satisfaction levels with solutions that deliver promised business outcomes.
Customer Benefits
Everything-as-a-Service model gives flexibility to align with business needs
Pay-as-you-go financing model means cost based purely on consumption
Add capacity to suit usage, with just a click
Everything managed for you through Pointnext support services, with no additional costs incurred
Lower capital spend and reduced IT provisioning
Partner Benefits
Source of recurring monthly revenue which includes additional upfront margins
Have regular interaction with customers to help identify additional business based on consumption and nurture long-term loyalty and customer 'stickiness'
Maintain Partner status because GreenLake revenue counts towards threshold requirements
Partners earn upfront rebates on GreenLake sales
Benefit from additional HPE Partner Services

Accelerate selling through automation
GreenLake Predefined SKU Bundle Offers
HPE GreenLake has formalised a set of pre-defined SKUs across the dHCI, Nimble and ProLiant solution ranges to make it simpler for Partner to sell to customers.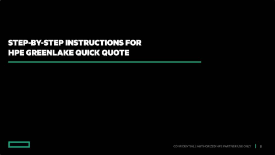 Deep-Dive into the Predefined Program
DOWNLOAD
$50K+ TCV Threshold
SKU based pre-priced, pre-configured workloads
Nimble, ProLiant, dHCI
Data driven
Go to IMOnline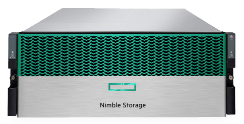 Purchasing options for HPE GreenLake Predefined Bundles
Swift Program
---
$50K+ TCV Threshold
Pre-priced workloads
Nimble, ProLiant, dHCI and Alletra
Option to add VMWare*
VRAM choice for dHCI
TAKE A LOOK
Quick Quote
---
$50K+ TCV Threshold
Pre-priced workloads based on VMs, storage and compute
Some 3rd party SW options
Configurable options to add GMS, rack, DMR etc.
TRY IT NOW
Custom Option
---
$500K+ TCV Threshold
HPE or Partner submit BOMs
Flexibility w/ 3rd party SW, adding co-lo, multi-country installs, GMS, AP&S, customer buybacks etc
CONTACT US Making HPE GreenLake more accessible
Sell faster and sell more with HPE GreenLake Quick Quote
Get access to the best pricing available
Create sales quotes in minutes
Easily explore opportunities within your sales pipeline
Use quoting to actively engage with customers
Add your own managed services to the HPE GreenLake offers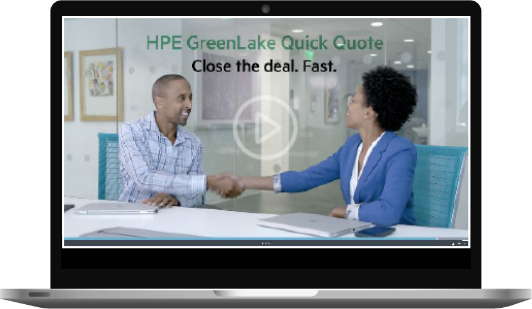 HPE GreenLake Quick Quote Explained
WATCH THE VIDEO
REDUCE THE SALES CYCLE

BUILD YOUR SALES PIPELINE

ADDS VALUE FOR BOTH YOU & YOUR CUSTOMERS

HPE GREENLAKE QUICK QUOTE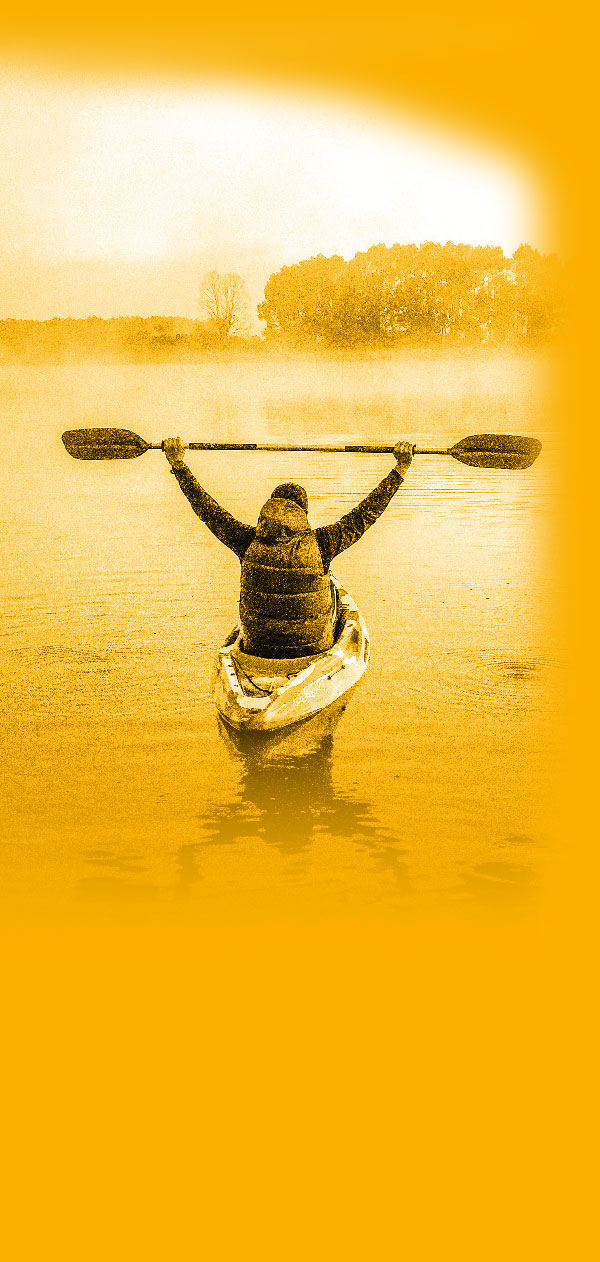 HPE GreenLake for mid-sized business
For deal sizes around the $50K–$200K threshold
Help more customers access the benefits of Greenlake Hybrid cloud services, perfect for smaller storage and compute environments with remote delivery options (proactive services).
It's a WIN WIN…
Understand how to develop a consumption-based business and increase your profitability and customer experience of HPE technology through HPE GreenLake.
Customers get the value of HPE GreenLake at a lower cost
Updated pre-configured and prepriced storage and compute cloud services, with monthly pricing starting below $3k
Proactive services delivered remotely (currently available in English only)
Quickly deploy storage and compute as-a-Service and only pay for what you use
Partners can leverage HPE GreenLake to win and expand deal sizes
Target smaller customers for a lower entry cost point
Win and expand deal size while supporting customer at scale
Available to existing customers, as well as new prospects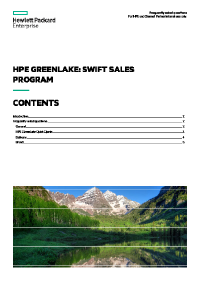 HPE GreenLake for Mid-Sized Business FAQ
DOWNLOAD
HPE GreenLake key workloads that can be delivered as-a-Service
HPE GreenLake offers flexibility, increased control and lower TCO by metering usage, so customers only pay for what they consume. They can be tailored to include services needed to address gaps Partners may have in their skills or resources.

Target the right Customers
We've made it even easier for you identify XaaS opportunities and develop marketing and sales initiatives to enhance your HPE practice.
FAST GROWING COMPANIES
BUSINESSES WITH SEASONAL PEAKS
CUSTOMERS LOOKING TO MOVE FROM CAPEX TO OPEX
BUSINESSES WANTING TO MOVE TO CLOUD BUT HAVE SECURITY CONCERNS
HPE GreenLake QUALIFICATION QUESTIONNAIRE
Qualify leads and earn additional rebates and recurrent revenue when customers adopting HPE GreenLake.
HPE GreenLake for Enterprise
This agile, cloud-native solution removes configuration complexity to rapidly deliver multiple cloud services on-demand.

HPE GreenLake Lighthouse is an independent, standard, and interchangeable modular component that is used to support enterprise-level consumption models.
Alongside Project Aurora, HPE GreenLake secures more complex edge-to-cloud architectures, helping run dynamically scaled applications.
FIND OUT MORE
Your HPE
GreenLake

Online Training Centre

We'll support you with everything from training, presales support to configuration services, and even add complimentary vendor cloud-vendor solutions, all to help you win deals.

Explore the most relevant training content based on your job function or role. You will need to be a HPE Partner to access this content.
On Demand Training
Podcasts
Seismic Briefcases
Videos on demand
Other resources
EXCLUSIVE TO Ingram Micro
MEET MINDY
Ingram Micro's HPE GreenLake Swift program chat bot guides you through compute, storage and dHCI consumption offers, in 6 clicks or less.
Exclusively offered by Ingram Micro, Mindy will help you build appropriate consumption solutions that will meet your SMB customer's needs.
try it now
Helping Partners build a consumption-based business practice
Speak to your Ingram Micro GreenLake Experts to discover how HPE GreenLake can help maximise on your revenue opportunities
Speak to us
Seeing further ahead.
| Question | Score 0 - 10 |
| --- | --- |
| 1. Does the Customer consider TCO, not just HW unit price? | |
| 2. Does Customer has a limited IT budget, but need to invest in a solution that will grow with their business? | |
| 3. Is Customer under pressure to produce more Cloud like Infrastructure service to their business /customers? | |
| 4. Does the Customer require on premise or Hybrid infrastructure? | |
| 5. Do we HPE /Partner have access and influence to business stakeholders/decision makers including finance team? | |
| 6. Does the Customer value services? | |
| 7. Is there a gap between expected service Vs delivered service from IT? | |
| 8. Is their utilisation rate low in the Data Center? | |
| 9. Is there a history of over purchase, under purchase, poorly utilised assets? | |
| 10. Are they looking to move product procurement from a CAPEX to OPEX budget? | |
| 11. Is the customer under pressure to align IT costs with true use? | |
| 12. Does the customer have a growth environment? | |
| 13. Does the customer have a long and challenging supply chain? | |
| Total Greenlake Customer Qualification Score is... | 0 |
Red <65

Amber 66-83

GREEN >83 GET SELLING!

Learn how to position and sell GreenLake below or speak to your Ingram Micro GreenLake Expert for support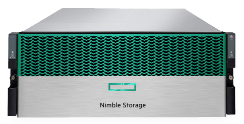 Nimble Hybrid & All Flash Arrays
Nimble HF40/HF60
HPE Nimble HF40 and HF60 Hybrid Flash arrays
Choice of network interface
29.9TB to 121TB Usable Capacity
Nimble – AF40/AF60
HPE Nimble AF40 and AF60 All Flash arrays
Choice of network interface
14.9TB to 122.2TB Usable Capacity
Go to IMOnline

Compute
ProLiant DL325
HPE ProLiant DL325 with 384GB memory, 1x AMD EPYC 7502P (2.5GHz/32-core/180W) Processor, 2x 480GB SSD, choice of network interface
4 - 7 Servers
ProLiant DL360
HPE ProLiant DL360 with 768GB memory, 2x Intel Xeon-Gold 6238R (2.2GHz/28-core/165W) Processor, 2x 480GB SSD, choice of network interface
4 - 7 Servers
Go to IMOnline
dHCI
dHCI HF40-DL360
29.9TB – 121TB Usable Capacity
489GB – 1,304GB Available VRAM
3 – 8 DL360 Servers w/ 192GB RAM (each)
2.4GHz Intel 4210R (20 cores)
(2) HPE 5945 Switches
dHCI AF40-DL360
14.9TB – 122.2TB Usable Capacity
978GB – 2,608GB Available VRAM
3 – 8 DL360 Servers w/ 384GB RAM (each)
2..1GHz Intel 5218R (40 cores)
(2) HPE 5945 Switches
dHCI AF60-DL360
29.9TB – 121TB Usable Capacity
1.959GB – 5, 524GB Available VRAM
3 – 8 DL360 Servers w/ 768GB RAM (each)
2.2GHz Intel 6238R (56 cores)
(2) HPE 5945 Switches
Go to IMOnline
Your file is downloading...