HPE ONEVIEW
A software-defined engine for infrastructure management
HPE OneView is your software-defined engine for infrastructure management, automating and streamlining IT processes across compute, storage and fabric resources. Software-defined intelligence provides template-driven efficiency and a unified API integrates and automates applications and operations.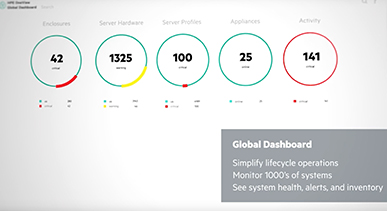 ANNOUNCING THE FOLLOWING KEY NEW FEATURES IN V4.
Designed for the way people work—not how devices are managed—HPE OneView helps your IT team deploy infrastructure faster, simplify operations, and increase productivity across your entire data center. HPE OneView also helps put customers on the fast track to composable infrastructure, a simpler and more efficient IT infrastructure.
HPE OneView Global Dashboard delivers enterprise scale management of HPE Synergy, HPE BladeSystem c-Class, HPE ProLiant DL, HPE Apollo and HPE Hyper Converged 380 servers into a single view. It also unifies management of HPE OneView and HPE Synergy Composer instances and manages up to 10 HPE OneView appliances.
Complete server-level management for ProLiant DL platforms (including RAID)
Support extended to HPE Apollo 2000 , 4000, 6000 and 8000 series (monitoring only)
In-Service Migration of Virtual Connect modules to HPE OneView means faster migration with zero downtime
Integrated remote support for c7000, Synergy 12000 Frames, Gen8 BLs and DLs to receive 24x7monitoring, pre-failure alerts, automatic call logging, and automatic parts dispatch to enhance overall customer experience supporting HPE infrastructure
Integration with HPE CloudSystem 10 and HPE Cloud Services Automation
Support for Virtual Connect 16GB Fibre Channel Module to accelerate migration to HPE OneView
Scopes to logically group resources such as finance, sales, and ERP
Automated backup scheduling: daily, weekly, and on demand
Management of Cisco Fabric Extender for HPE BladeSystem modules (also known as the B22HP)
Microsoft System Center integration adds support for HPE Synergy, Synergy Composer and HPE OneView 3.0, as well as firmware and driver support from SPP 2016.06.0
VMware vCenter integration is now delivered as a virtual appliance, simplifying initial setup
New partner integrations from Ansible, SaltStack, SUSE and VMTurbo further enhances customers' ability to deploy new apps and services faster through the HPE Composable Infrastructure Partner Program.