HPE PROLIANT RACK AND TOWER SERVERS
The world's most secure industry standard servers.
For IT decision makers who must define their Right Mix of Hybrid IT across on-premises dedicated and cloud environments as well as hosted cloud, a new compute experience is required to obtain cloud economics and agility with the security of an on-premises data center. HPE ProLiant servers are designed to simplify Hybrid IT by providing the agility of a modernized infrastructure, the security to protect your digital assets and the economic control to pay for only what your use.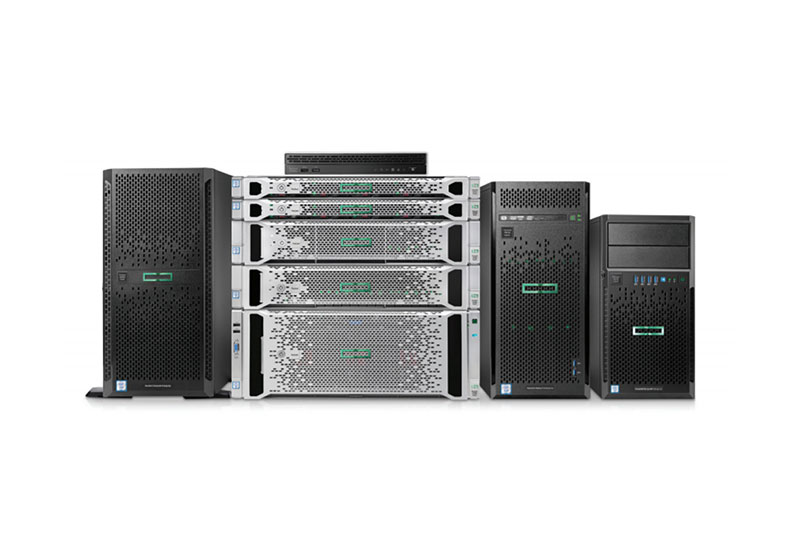 HPE ProLiant MicroServer
HPE ProLiant MicroServer family, is a small, quiet, and uniquely designed server that is ideal as a first server solution for micro and small businesses. This family provides the following benefits:
Easy to manage and service
Cool design and ability to place it anywhere
Seamless networking with stackable HPE router and switch
HPE ProLiant Easy Connect
Reduce the need for expensive full-time IT staffing on-site without compromising quality. HPE ProLiant Easy Connect Managed Hybrid Servers are remotely managed services offered through Hewlett Packard Enterprise's best in class service provider partner network, delivered as a 1-year, 3-year, or 5-year subscription paid monthly or annually.
HPE ProLiant Gen9 Tower Servers
These affordable tower servers deliver the performance to run everything from general office applications to database workloads. It delivers:
Simplicity with easy-to-use tools, processes and support to help server administrators keep hardware running
Efficiency that office managers need to help improve employee productivity
Affordability to increase business agility to help acquire and retain customers
HPE ProLiant Gen9 Rack Servers
The DL family of servers are the most flexible, reliable, and performance-optimized ProLiant rack servers:
Flexible choices to redefine compute economics
Reliable infrastructure with up to 66x faster service delivery
Optimized servers boost business performance with 4x faster workload performance
HPE ProLiant Gen10 Servers
Gen10 delivers agility, security and economic control that customers need to find the right Hybrid IT mix for their business, whether on or off premise. With this introduction of Gen10, HPE is the only vendor providing an IT infrastructure which is secure from the start, optimised for every workload, ready to scale and built for agility and speed.

Click here to explore our interactive campaign on Gen10 Servers