1420 24G 2SFP+ (JH018A) 26 PORT SWITCH
This is HP's most economical 10 Gigabit capable switch, ideal for small groups looking to connect to a server or storage at 10 Gigabit speeds.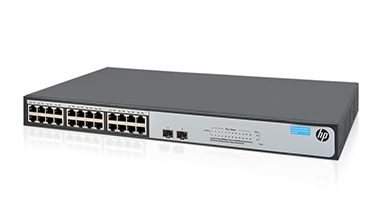 Unmanaged switches offer a cost-effective small business solution for locations needing only basic Layer 2 switching in a flat single tier network.

The HPE OfficeConnect 1420 Switch Series delivers cost effective gigabit Ethernet (1GbE) connectivity offering small businesses 10 times the performance of Fast Ethernet with unmanaged plug-and-play simplicity. This HPE OfficeConnect 1420 24G 2SFP+ Unmanaged Gigabit is a switch with 24 10/100/1000 ports and 2 fixed 1000/10000 SFP+ ports. Future-proof 10G for high-speed fiber connection to servers or switches, using optional SFP+ or SFP transceivers. Fanless. Internal power supply.
Ports
Powerful: All IT infrastructure and advanced data services in a single building block
Simple: Intuitive per-VM management with rapid deployment and
Efficient: 73% TCO savings compared to traditional infrastructure and up to 49% cheaper than AWS
Advanced Data Services:
24) RJ-45 autosensing 10/100/1000 ports
(2) fixed 1000/10000 SFP+ ports
Supports a maximum of 24 autosensing 10/100/1000 ports plus 2 SFP+ ports
Features:
Quality of Service (QoS) and flow control for improved network efficiency
Energy Efficient Ethernet for low power consumption
Fanless with silent operation
Zero administration plug and play operation
Limited Lifetime Warranty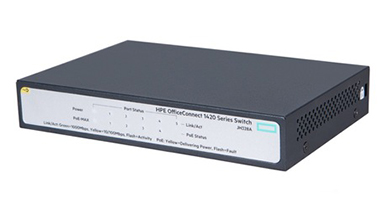 1420 5G PoE+ (32W) (JH328A) 5 Port Switch
Part of the HPE OfficeConnect 1420 Series switches, this model has 5x 10/100/1000 rear-facing port. Four of five ports support PoE+ with a total switch PoE power budget of 32W. It is a fanless desktop configuration.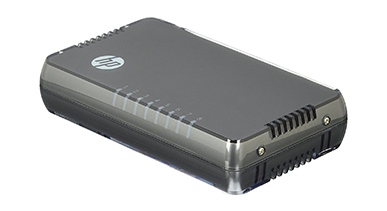 1405 8G (v3) (JH408A) 8 Port Switch
HPE OfficeConnect 1405 Series switches are desktop unmanaged Layer 2 Gigabit and Fast Ethernet switches. This model has 8x 10/100/1000 ports. Desktop configuration with ports to the rear and fanless.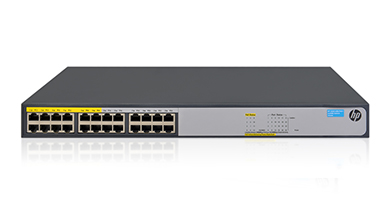 1420 24G PoE+ (124W) (JH019A) 24 Port Switch
This model belongs to the HPE OfficeConnect 1420 Series andit has 24x 10/100/1000 ports of which 12 support Power over Ethernet PoE+/PoE with a power budget of 124 Watts. It is full rack width with included rack mount hardware but can also operate on a desktop.