June HPE Events
June 2020
24th & 25th - HPE Discover Virtual Experience
Deliver Consumption-based IT
to meet the demands of a Digital
Economy with HPE GreenLake!
Customers increasingly want to pay for the infrastructure they consume each month allowing flexibility to scale up or down as required, while avoiding capital expenses.
HPE GreenLake's consumption-based solutions delivered to customers, on their terms, creating recurrent revenue opportunities for you.
Speak to Ingram Micro to find out about HPE Greenlake, the solution that helps businesses easily buy or upgrade and consume IT infrastructure to support business demand and optimal digital transformation through:
1.
Everything-as-a-Service model
2.
Pay-as-you-go financing
3.
Adding capacity to suit usage with just a click
4.
Everything managed for you
We will soon be launching a new campaign to further explore the opportunities this consumption based model can bring you and your customers. Coming soon!
Aruba Go Incentive
Win an Aruba Instant On Access Point!*
We are giving away 200 Aruba Instant On AP11 Access Points to the first Partners across EMEA who complete 2 simple steps…
1 –
Join the Aruba Go program
2 –

Place an Aruba order of over €500 / £500 with Ingram Micro
If you are among the first 200 across EMEA to complete steps 1 & 2 you could win an Aruba Instant On AP11 access point!*
It really is that simple!
Aruba Go is the reseller enablement program designed to support you on your journey of becoming an Aruba Business Partner. It takes you through 3 steps to becoming a Business Partner and unlock the benefits available to support your business growth.
Join and win today!
* Terms and Conditions Apply. For further information contact your local Aruba Team. Subject to country availability.
WHAT'S NEW ON HORIZON?
WELCOMING THE NEW ARUBA INSTANT ON SWITCH SERIES TO
THE FAMILY!
The affordable Wi-Fi solution perfect for small businesses that require enterprise-grade networking!
Aruba Instant On is now a combined wired and wireless networking solution for small and growing businesses with little to no IT support who are looking for a reliable, secure, easy to set-up networking solution at an affordable price.
Aruba Instant On 1930 Switches are now part of the Aruba family!
The Aruba Instant On 1930 switch series provides small business customers with a complete wired and wireless network infrastructure that's secure, reliable, and easy to set up, with an attractive price and high performance.
The full Aruba Instant On solution now includes Access Points, Ethernet Switches, and a mobile app and cloud-based web portal to manage the network.
HPE VOLUME STORAGE*
Simple. Affordable. High Performance
Discover how to position and sell HPE Storage to your SMB customers, helping them to harness the power of their data and drive business forward.
Access stored data wherever and whenever you need it
•
Maintain compliance
•
Stay IT and cost efficient
… all working within budget limitations.
Discover Affordable Storage Today
* Subject to country availability.
HPE STOREEVER
When ransomware spreads, keep your data clean with HPE StoreEver tape.
According to the FBI, ransomware targets a company every 40 seconds, making total avoidance nearly impossible. So what can you do to be prepared if ransomware starts spreading across your network?
Learn about Ransomware and how HPE StoreEver can help protect your business!
Take advantage of the great HPE StoreEver tape promotions now available!

HYBRID IT GO - COMING SOON!
Hybrid IT Go is the reseller enablement program designed to support you on your journey of becoming a HPE Business Partner.
Follow the 3 steps to becoming a Business Partner and unlock the benefits available to support your business growth.
The Hybrid IT Go program also gives you access to useful support tools & assets, latest offers, discounts, trainings and services to help you maximise on all your HPE sales opportunities.
BECOME A HPE BUSINESS PARTNER IN 3 STEPS!
BECOME AN


HPE PARTNER
GROW YOUR


HPE BUSINESS
GET


HPE CERTIFIED
CLOUD NETWORKING - INTRODUCING THE NEW AND IMPROVED ARUBA CENTRAL PLATFORM
Aruba cloud-managed networking solutions have built-in network features that are simple to onboard and manage, are smart and deliver intelligent mobile-first experiences and ensure security that scales.
Our new campaign will take you through Aruba Central 2.5, cutting through the complexity to show you how easy to deploy and cost effective this solution really is.
Coming soon!
HPE is equipping its hyperconverged infrastructure, the HPE SimpliVity 325 with the latest AMD EPYC high-core count processors (ROME). This one unit solution doubles the number of virtual desktops and reduces costs. It is ideal for workers at remote sites or in space-constrained locations.
On May 7, additional HPE Nimble Storage dHCI enhancements were announced, which will be released with next NPI on July 6. The features include availability of GreenLake for HPE Nimble Storage dHCI, added support for HPE ProLiant DL325, DL385, DL560, and DL580 servers, and the number of supported servers increases from 20 to 32. HPE Nimble Storage dHCI has simplified lifecycle management with single-click, non-disruptive software upgrades for the hypervisor and storage software.
Since May 5th 2020, HPE Nimble Storage Class Memory (SCM), also known as Memory Driven Flash (MDF), is available for HPE Nimble AF60 and AF80 platforms in the HPE quoting and config systems.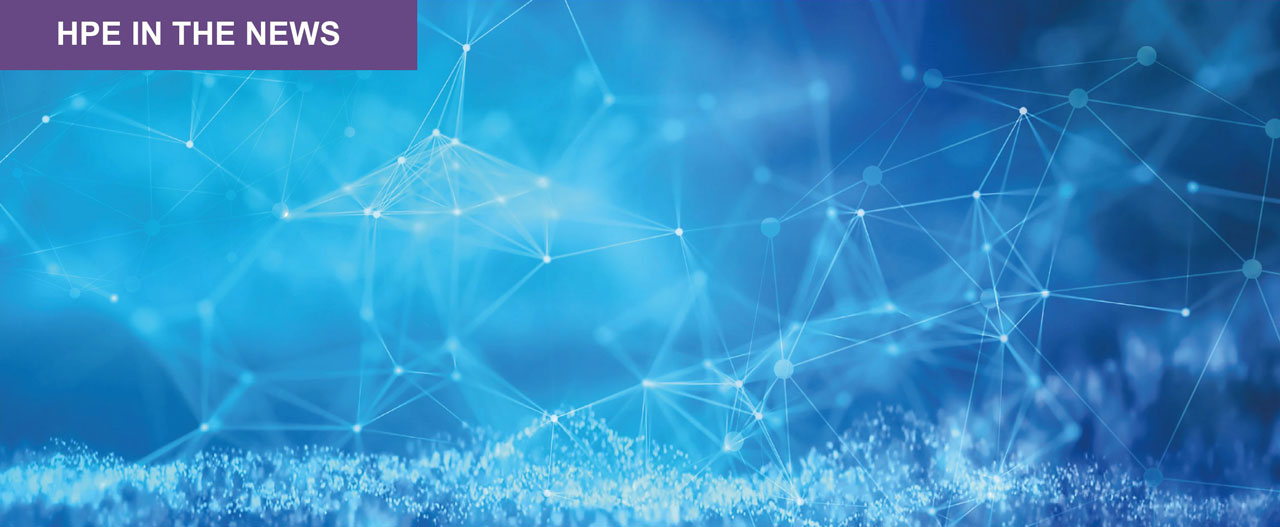 ARUBA UNVEILS NEW SECURE AI-POWERED SOLUTIONS AND VISION FOR THE REIMAGINED WORKPLACE
ONE SCIENTIST'S JOURNEY TO ACCELERATE DRUG DISCOVERY FOR COVID-19 USING CLOUD-BASED SUPERCOMPUTING
HEWLETT PACKARD ENTERPRISE DELIVERS THE CLOUD EXPERIENCE EVERYWHERE WITH THE GENERAL AVAILABILITY OF HPE GREENLAKE CENTRAL
NEW PRODUCT INTRODUCTIONS
Learn about the latest HPE Product and Solution releases this month... all to help customers achieve true digital transformation!
FOLLOW INGRAM MICRO HORIZON
Horizon has gone Social! Be sure to follow us to keep up to date on all the day-to-day happenings from Ingram Micro Horizon. We look forward to you joining the conversation!
| | | |
| --- | --- | --- |
| | | @IngramHorizon |
| | | |
| --- | --- | --- |
| | | Ingram Horizon |
| | | |
| --- | --- | --- |
| | | Ingram_Horizon |
| | | |
| --- | --- | --- |
| | | Ingram Micro HPE EMEA |